Buildings and Blocks
Dining Out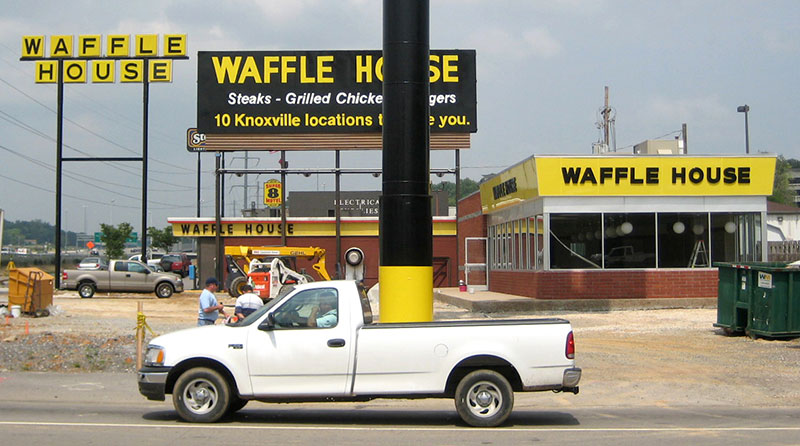 In the middle of his most recent performance at the Bijou, musician Ryan Adams commented that Knoxville was one of the few towns he had played where he "couldn't find any place to eat downtown at night." That struck a familiar note, bringing to mind my own first experiences with midnight gastronomy while a college sophomore in Boston.
Faced with 11 pm dormitory hunger, we'd pile into one of our privileged classmates' vehicles and head down Route 128 for a snack at Howard Johnson's before their early morning closing. HoJo's, as it was known even in the early 1960s, became an East Coast phenomenon. With over a thousand restaurants located on highways and in cities from Maine to Florida, the chain was the largest food purveyor in the country second only to the United States Army. The first ice-cream and sandwich shop established by Howard Deering Johnson in 1935 was in Quincy, a suburb of Boston. When additional units were added, the architecture of choice was the colonial house, topped by a bright orange tile roof with weathervane that became the design trademark for the chain. In the 1950s, the model was transformed into a modern ranch house, with an open interior plan and expanses of glass - "picture windows" - that paralleled popular trends in residential architecture of the time.
Faced with competition by fast-food eateries and global corporate pressures, Howard Johnson restaurants went the way of Woolworth's, A&P, Macy's and other retail giants, all seemingly invulnerable in their heyday. But eating out around the clock remains alive and well, even in Knoxville where the choice is limited to two sit-down, full-service venues: the International House of Pancakes (at three locations) and the ubiquitous Waffle House (at ten locations). All require vehicular access.
If you're driving down I-40 and think you're seeing double, you're not: the intersection of Weisgarber Road and Papermill Drive is marked by two Waffle Houses, sitting at right angles to one another. When Knoxville's newest and largest is completed next month, the older model will be demolished, leaving room for a more spacious parking lot.
The Waffle House brand is a direct descendent of Toddle House, a defunct national chain of all-night eateries that kept the lights on and doors unlocked along highways and in urban neighborhoods for decades. In 1955, Joe Rogers, an employee of Toddle House, founded what was to become the third largest chain of diners in the country. Unit One, as it was called, was built in Avondale Estates, a suburb of Atlanta.
All of the more than 1500 Waffle Houses offer a similar architectural experience. After parking, you enter in the center and are able to survey the entire room - a true lunch box - in one quick panoramic glance. To your right (or left, if it's the mirror-image plan) there's a row of chairs for the occasional wait. Usually, you can quickly find a swiveling stool at the counter or a hard-backed but ergonomically comfortable seat in a cozy booth that abuts the cooking area, enabling the server to take your order with a minimum of wasted movement. The menu, embedded in plastic, doubles as a place-mat and features four-color illustrations of the food that look exactly like what you will get. No surprises here.
The design of the place is functional and friendly. Table-to-ceiling windows showcase everything that's inside and give both customers and workers a sense of spaciousness in an interior carefully planned down to the inch. The counter is just the right height (for me, at least) and its generous depth permits plenty of room for both the food and condiments. Booths and counter are lit by hanging globe lamps that provide soft, even lighting, and effectively lower the ceiling in areas where people sit. Space planning behind the counter seems almost the result of time-motion studies. The preparation and assembly of meals - the Waffle House "ballet" - provide a unique entertainment for those curious enough to watch and listen.
To a casual observer, the new building model looks much like the old, with a few subtle differences. Still a simple box, it's about one-third larger to accommodate 42 (rather than 33) diners and ease the traffic behind the counter. The outside has been simplified a bit. The tilted yellow parapet containing the big black block letters is wider, and the plain block walls have been replaced by brick-tinted, four-inch high concrete blocks embellished by two "rusticated" eight-inch courses. The changes, though slight, give the building a more contemporary look and enhance its visibility from the road. After all, this business is about selling products.
Somewhat different in concept and execution are the International House of Pancakes (IHOP) restaurants, reflecting that company's California roots. Founded in 1958, the menu originally contained only pancakes, eggs, and coffee, but has expanded to include a full array of breakfasts, lunches and dinners available at all hours. Early IHOP restaurants were housed in unmemorable ranch-style buildings. These were replaced in the late 1960s by A-frame structures seating 88 patrons and featuring a raked, bright blue tile roof. Rather than demolish these distinctive landmarks, IHOP is refurbishing and enlarging them. One is still in use (24/7, of course) on Kingston Pike in Bearden, populated by a crowd as diverse as you'll ever see in a Knoxville eatery. Sometimes the place is empty, but often, particularly on church Wednesdays and Sundays, the blue vinyl padded booths are filled to capacity.
For late-night customers, these restaurants are not just about gastronomy, but seeing and hearing what's "going on" in the middle of the night. It's a social experience, one common to most urban areas in the mid-20th century. Knoxville certainly has its spots, but none of them close to downtown or the university campus. Waffle House determines locations by the estimated success of the "third shift," those hours between 9 pm and 7 am when they hope to have the most business and the least competition. Maybe the city could actively promote one of those empty lots on Chapman Highway, just past Baptist Hospital, as the future site of such an eatery. I'd predict it would become a popular near-downtown hangout, if only for visiting celebrities.
©2008 Michael Kaplan. This article originally appeared in the Knoxville Voice.
Photo: A tale of two Waffle Houses: building for the "third shift"